REQUIRES YOUR ATTENTION
Posts: 1491
Joined: Tue Dec 23, 2008 4:22 pm
Location: World of Oddities
---
This one took me a few minutes. Giggled when I got it.
---
Needs Your Bank Info
Posts: 2686
Joined: Tue Mar 21, 2006 12:57 am
Location: Fort Mitchell, KY, USA
Contact:
This has to be the funniest comic I've seen here in a long time (once I got it completely), and that's
not
because the others weren't that funny.
Especially seeing the goon dressed like that.
(Plus, hey, always fun when the Letter Mafia shows up.
)
James wrote:While writing this post I've been gripped by a growing concern that it's nothing more than incredibly tedious navel-gazing. But hey, this is the Internet.
---
Impresses the Females
Posts: 6146
Joined: Fri Sep 30, 2005 1:24 am
Location: Ottawa, Canada
Contact:
I might be mising part of this... Did he confuse Sir F, shaped like an F in the poster, with surfing? but then where did the part about killing go... killer surf?
Veepa wrote:Very wise words, Master Tiny Legs.
---
REQUIRES YOUR ATTENTION
Posts: 1491
Joined: Tue Dec 23, 2008 4:22 pm
Location: World of Oddities
I... I don't actually know where the killing enters the picture. I didn't think that far ahead. It's mostly about the sir f -> surf thing.

Oh, and to needlessly explain the pun for those that don't get it: Say "Sir" out loud. Now do it again, but add an "fff"-sound at the end of it.
quetzalcoatlus wrote:I love how pleased the star is with it's copious armpit hair. That is a sentence I never thought I would find myself typing.
---
WON THE LOTTERY
Posts: 138
Joined: Thu Apr 30, 2009 12:00 pm
Location: Not really in Australia, quit asking
Ha ha ha! Misunderstanding!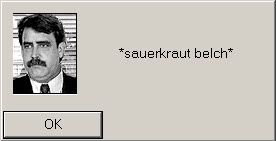 ---
---
Who is online
Users browsing this forum: No registered users and 4 guests