Needs Your Bank Info
Posts: 2686
Joined: Tue Mar 21, 2006 12:57 am
Location: Fort Mitchell, KY, USA
Contact:
A Collaboration!
Subject via
Skimba
Comic idea also by
Skimba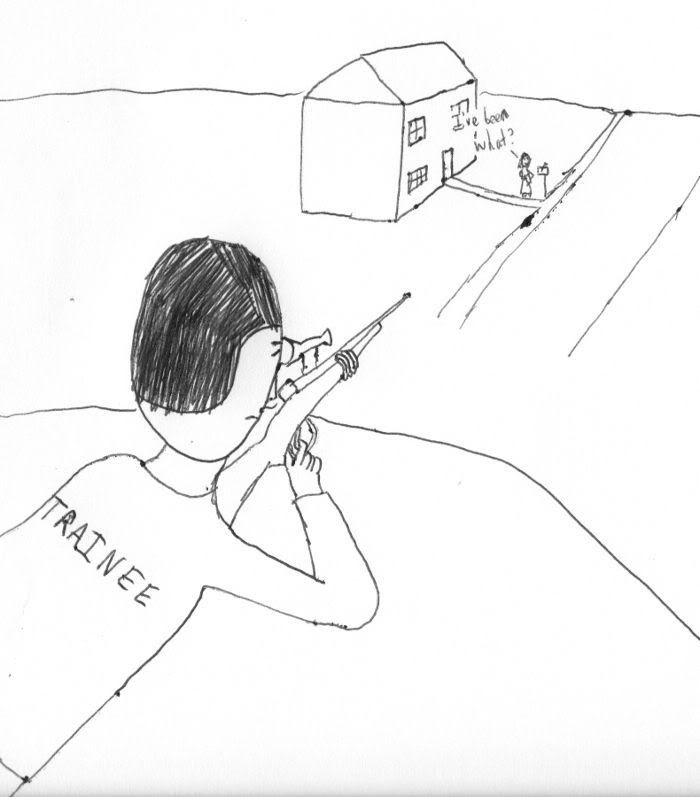 James wrote:While writing this post I've been gripped by a growing concern that it's nothing more than incredibly tedious navel-gazing. But hey, this is the Internet.
---
Site Admin
Posts: 11928
Joined: Thu Feb 02, 2006 6:26 pm
Location: Dallas
Contact:
Bwa hahaha ha!!
It's the "I've been what?" that really makes this work.
---
Pays Too Much For Car Insurance
Posts: 4506
Joined: Sun May 13, 2007 3:51 am
Location: La-la land
hmmm, makes me wonder what happens to the trainee if he misses....
ntw3001 wrote:Sass has to come from the heart, not from the shirt.
traubster wrote:I find it irritating whenever I walk through a cemetery and there's not one gravestone that reads something like, "We're all grateful that he's dead. Sorry if he owed you money."
---
Needs Your Bank Info
Posts: 3525
Joined: Wed Oct 05, 2005 6:42 pm
Location: Canada, eh?
Contact:
For once, I DON'T mind being the last person chosen!
James wrote:I honestly have no idea whether I'm more fruity or plural.
ntw3001 wrote:Is the tattoooed black sperm squirming out of my mouth, or am I sensually nibbling its tail? I don't remember my 21st birthday party.
---
Impresses the Females
Posts: 7547
Joined: Wed Oct 18, 2006 11:29 am
Location: I, Frankenstein;Bride of Frankenstein;Son of Frankenstein; Young Frankenstein;Bikini Frankenstein
Contact:
I select YOU!
Also, thank you Judas for making my idea into a picture.
I just can't do perspective very well at all.
"I want potential romantic and/or sexual prospects to be vaguely reminded of John Wayne Gacy when they see me."
---
Impresses the Females
Posts: 6148
Joined: Fri Sep 30, 2005 1:24 am
Location: Ottawa, Canada
Contact:
This was a GREAT idea
Veepa wrote:Very wise words, Master Tiny Legs.
---
REQUIRES YOUR ATTENTION
Posts: 1458
Joined: Wed Nov 29, 2006 2:54 am
Location: Pennsyltucky
Contact:
That's why he's still a trainee, hasn't yet learned not to warn people before he shoots them
You can lead a horse to water, but you can't make him eat a salami sandwich.

We now return you to your regularly scheduled CIA intra-cranial broadcasts
---
Makes LOLCATS
Posts: 563
Joined: Wed Aug 30, 2006 2:46 pm
Location: Amsterdam, Netherlands
Contact:
sum yun gai wrote:hmmm, makes me wonder what happens to the trainee if he misses....
He'll be selected too.
---
---
---
---
---
Who is online
Users browsing this forum: No registered users and 1 guest