WON THE LOTTERY
Posts: 138
Joined: Thu Apr 30, 2009 12:00 pm
Location: Not really in Australia, quit asking
Line by Tangent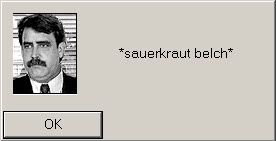 ---
Site Admin
Posts: 11928
Joined: Thu Feb 02, 2006 6:26 pm
Location: Dallas
Contact:
---
Needs Your Bank Info
Posts: 2686
Joined: Tue Mar 21, 2006 12:57 am
Location: Fort Mitchell, KY, USA
Contact:
Box!
James wrote:While writing this post I've been gripped by a growing concern that it's nothing more than incredibly tedious navel-gazing. But hey, this is the Internet.
---
Impresses the Females
Posts: 7547
Joined: Wed Oct 18, 2006 11:29 am
Location: I, Frankenstein;Bride of Frankenstein;Son of Frankenstein; Young Frankenstein;Bikini Frankenstein
Contact:
"I want potential romantic and/or sexual prospects to be vaguely reminded of John Wayne Gacy when they see me."
---
Needs Your Bank Info
Posts: 2696
Joined: Mon Dec 05, 2005 2:41 am
Location: One great big festering neon distraction
That's totally my cats' response.
Edit: would that be cats' responses, even if they're the exact same type of response for both cats?
Saltine wrote:This is all logically consistent, but the artist does not go on to explain that you love Hitler. See, this is why logicians don't write popular music.
---
The world needs more boxes that have "BOX!" really big on the front.
"Not every moment can be awesome."
---
Pays Too Much For Car Insurance
Posts: 4506
Joined: Sun May 13, 2007 3:51 am
Location: La-la land
reminds me of
this
, but only if you watch it all the way to the end, then click on "eyebrow style", *then* click on the poster in the upper right of the window before the clip is done playing.
actually... it's probably enough to just click "eyebrow style" at the end....
ntw3001 wrote:Sass has to come from the heart, not from the shirt.
traubster wrote:I find it irritating whenever I walk through a cemetery and there's not one gravestone that reads something like, "We're all grateful that he's dead. Sorry if he owed you money."
---
---
---
Who is online
Users browsing this forum: No registered users and 1 guest