Regrows Lost Hair
Posts: 193
Joined: Mon Nov 06, 2006 11:09 pm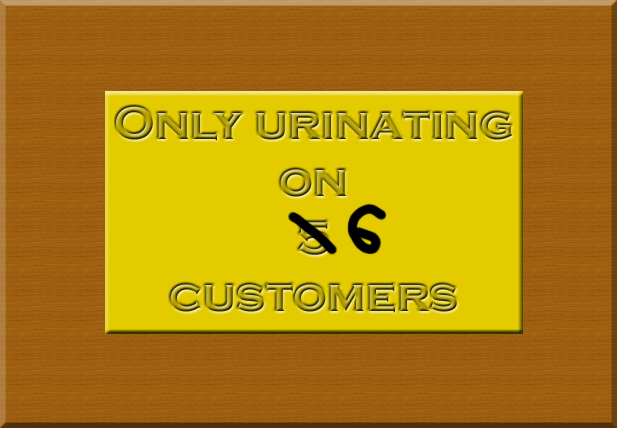 "I'm sure they'll listen to Reason."
--"Snow Crash", Neal Stephenson
---
Pays Too Much For Car Insurance
Posts: 4652
Joined: Fri Sep 22, 2006 12:56 am
Location: TN
Contact:
I'll be the first to admit that, while I admire the craftsmanship, I do not, for lack of a better phrase, "get it."
---
Apparently Still Unemployed
Posts: 929
Joined: Sat Sep 01, 2007 5:18 am
Location: 275ft above sea level
It is an award plaque given, one supposes, to the employee with the most urinary self restraint in the previous year.
---
Regrows Lost Hair
Posts: 193
Joined: Mon Nov 06, 2006 11:09 pm
Or, at the very least, given in the hopes of encouraging better self restraint in the future.
"I'm sure they'll listen to Reason."

--"Snow Crash", Neal Stephenson
---
Needs Your Bank Info
Posts: 3434
Joined: Mon Nov 27, 2006 7:50 pm
Location: Florida
Contact:
And said restraint was overestimated, so out comes the Sharpie.

And this is for the guy who did it the least. Like Freddy's, this place should have no business.
---
Impresses the Females
Posts: 6148
Joined: Fri Sep 30, 2005 1:24 am
Location: Ottawa, Canada
Contact:
This is good stuff
Veepa wrote:Very wise words, Master Tiny Legs.
---
Impresses the Females
Posts: 7547
Joined: Wed Oct 18, 2006 11:29 am
Location: I, Frankenstein;Bride of Frankenstein;Son of Frankenstein; Young Frankenstein;Bikini Frankenstein
Contact:
"I want potential romantic and/or sexual prospects to be vaguely reminded of John Wayne Gacy when they see me."
---
---
---
Who is online
Users browsing this forum: No registered users and 1 guest