Okay, this is bothering the hell out of me. I've been searching for hours on Google etc trying to find this comic that I remeber going to. The basic plot of the comic is that people and vegetables coexist in world where they eat each other. The main chracters (that I can remember) include a carrot a human a potato and some other characters. Does anyone know the name of this comic?
---
What are you on?
Long live the new flesh.
---
---
REQUIRES YOUR ATTENTION
Posts: 1275
Joined: Sun Apr 16, 2006 1:45 pm
Location: 200 Miles Southwest of Cambridge, MA
newfoo42 wrote:

Veepa wrote:What are you on?

Catnip and coke and mentos.
Ahh.. three food groups, at least.
The Official Mom of Spamusement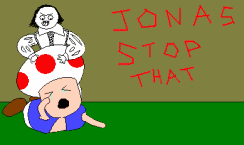 ---
---
---
Spam King
Posts: 15466
Joined: Thu Sep 29, 2005 1:49 pm
Location: Yeach
Contact:
. . .
quetzalcoatlus wrote:You should always make sure that all your important pussy cheese and uncle-rapist is backed up, in case your computer crashes.
---
Pays Too Much For Car Insurance
Posts: 5273
Joined: Sat Mar 18, 2006 8:24 am
Location: Cambridge, MA, US
Contact:
---
---
---
Who is online
Users browsing this forum: No registered users and 2 guests