I started innocently with:
Looofaaaaaahhhh:
Tom's kidney had recently grown so large that he had become nothing but an accessory ureter.
Clueless: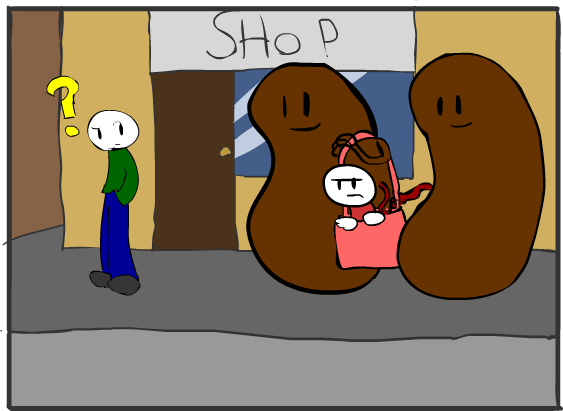 EvilevilEVIIIL(jek):
Kidney beans think that shopping for humans is all the rage now! Just look at that couple of beans over there adopting one now! Be careful if you're at the mall; you wouldn't want to be stuffed into a bag with an identification ribbon around your wrist!
Blasphemy:
Nullie:
"I wonder..." thought Mr. Bowling Ball, "If the well-clamped presents I sent Ted to buy for his birthday weren't well-clamped enough, he might not have been able to use his shopping bag for them. That would alert the Kidney Twins, who would certainly attempt his capture again. I wish parties weren't such a bother!"
Enty:
Chrizm:
Bowlingball-head wonders if maybe his jellybean friends were held up trapping a curious yet well-mannered bear. He decides, however, that this is likely not the reason they failed to come to his party.
PonderMe: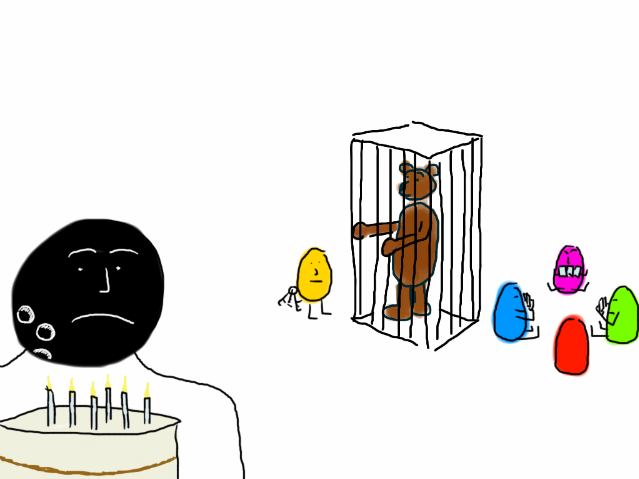 Kvcc:
"The darkside of the moon had invited all his jellybean friends over to celebrate his birthday, but they were more interested in playing with cards or his bear-in-a-cage."
MysticalD:
Ianceesbunnies:
A album which is in the middle of mutating, lords it over some jelly beans, a horribly mutated monkey in a cage and a few cards.
DusktheHusk:
Nyperyoung:
The mutated pink book with the fancy "A" on the cover explains the dangers of the radioactive jellybeans on the scattered credit cards to the caged mutant monkey.
Judice:
SYG:
"Do you like it? It's my latest creation. I call it the dromedary lobster monkey."
QuetzPretz:
Binkbonkboing:
The nipply villain was angered by the freakish creature. Fleshy camel, fire nipples, freaky head, furled tail. Too many F words. "BE GONE!" he demanded of the insolent creature, but he was only rewarded with a vacant gaze.
Portalzz:
The End. Good story!