Makes LOLCATS
Posts: 687
Joined: Wed Jun 21, 2006 1:55 pm
Location: Australia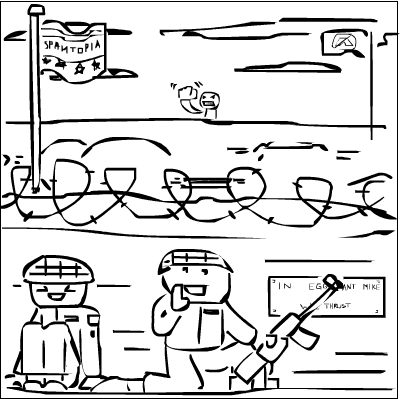 Challenge and line from Skimba (or maybe gASK, I dunno)
My name is not Jeffrey
---
Offers Discount Pharmaceuticals
Posts: 59
Joined: Wed Mar 14, 2007 9:45 am
Location: Czech Republic
Contact:
"In Eggplant Mike we trust!". Hillarious
---
Is Available For Online Dating
Posts: 475
Joined: Fri Jun 02, 2006 6:06 am
Location: London, UK
I thought about taking on this spamline challenge, but had no idea what I would do with it, so decided against (admittedly it was a very short thought).
This is brilliantly unexpected and as ever I love the comics where you can imagine someone saying the line
EDIT: Nopantistan!
---
Impresses the Females
Posts: 7547
Joined: Wed Oct 18, 2006 11:29 am
Location: I, Frankenstein;Bride of Frankenstein;Son of Frankenstein; Young Frankenstein;Bikini Frankenstein
Contact:
Yay, good job!!!
"I want potential romantic and/or sexual prospects to be vaguely reminded of John Wayne Gacy when they see me."
---
I see that Nopantsistan flag. Hooray for spamgeography!
Not named Dennis Miller.
Somewhat Cure!
Sprite comics based on anime for little girls are worth your time! Really!
---
---
---
---
Who is online
Users browsing this forum: No registered users and 0 guests